Board Candidates for the 2022 Election
Two supervisors will be elected to a three-year term commencing January 1, 2023 and ending December 31, 2025. The nominees are Sue Cunningham, Darren Reiter, and Brian Skinner. Completed ballots may be returned to the office via U.S. Postal Service or in-person and must be received at the Delaware SWCD office by November 15th, 2022 by 4:30 p.m.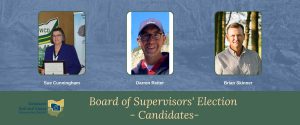 Candidate Bios:
Sue Cunningham: Sue Cunningham and husband, Phil, farm and reside in Thompson Township.  In the past, they utilized conservation tillage, grassed waterways, subsurface and surface drainage, and a complete manure management plan.  Sue works as a Nationwide insurance agent at Hollenbaugh & Associates and has served as a Soil and Water Conservation District Supervisor since 2002, including Board Chair for the past eight years.  The Cunningham's are actively involved at Epworth United Methodist Church.

Darren Reiter: Darren Reiter and family have been residents of Delaware County for the past 12 years. With a background in electrical engineering, he has been employed as a test engineer in the HVAC and automotive industries for 15 years. Over the past decade, his career transitioned to livestock farming and working part-time for the Central Ohio Farmers Coop (COFC).

Since transitioning careers, Darren has learned a great deal from personal experiences, local residents and through Soil and Water programs on proper land management and practices. He believes that as the landscape of Delaware County continues to change through growth and development, proper land management becomes even more vital to support our local farmers and the community. He finds specific importance in focusing on ensuring proper drainage access for farmers and nutrient management of ground, and maintaining the natural resources of Delaware County for years to come.

Brian Skinner: Brian Skinner and his wife, Connie, farm with their family at Hardscrabble Farms in Brown Township. Their family century farm operates 4200 acres. He graduated from OSU Agriculture technical institute in 1991 with an associate degree in Ag business. Brian has served on many boards and committees including the Delaware County Farm Bureau, Ohio Soybean Association, Delaware County Red Cross, United Way of Delaware allocations, and the Big Walnut watershed committee.

Brian and his family have been involved in numerous conservation practices. Thanks to the support of the Delaware County Soil and Water Conservation District, he was selected as the 2013 Ohio conservation farmer of the year. Brian and his wife of 21 years have an adult son and daughter. Grant owns and operates his own IT business. Brooke is attending Suffolk University in Boston. Brian and family have been proud to work with the soil and water conservation district for many generations.