Our mission is to bring people, government agencies, and private interests together to manage the natural resources and environmental challenges of Delaware County and the state of Ohio.
The Delaware Soil & Water Conservation District, located in Delaware County, Ohio, is an independent subdivision of the state of Ohio and governed by a locally elected Board of Supervisors. The District, associated with the Ohio Department of Agriculture-Division of Soil and Water Conservation, receives funding with local tax dollars that are matched by the state.
---
Board of Supervisors (Public-elected officials)
The Board of Supervisors' 2020 monthly meeting schedule:
January 21 at 4 p.m.
February 18 at 7 p.m.
March 17 at 7 p.m.
April 21 at 7 p.m. canceled
May 19 at 7 p.m.
June 16 at 7 p.m.
July 21 at 7 p.m.
August 18 at 7 p.m.
September 15 at 7 p.m.
October 20 at 7 p.m.
November 17 at 7 p.m.
December 15 at 7 p.m.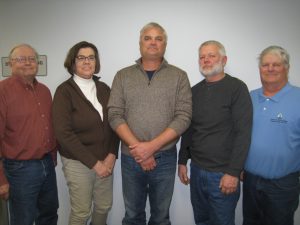 Board of Supervisors, from left:  Steve Sheets, Sue Cunningham, Dan Lane, Mike Hope, Ted Colflesh.
---
Delaware Soil & Water Conservation District Staff
Bret Bacon, Resource Conservation Program Coordinator
Daniel Barr, Resource Conservationist
Cody Beery, Resource Conservationist
Bonnie Dailey, Deputy Administrator
Joe Eads, Resource Conservationist
Mike Hollingsworth, Resource Conservationist
Joey Hurford, Resource Conservationist
Susan Kuba, Fiscal Services Coordinator
Matt Lanum, Resource Conservation Project Coordinator
Rebecca Longsmith, Resource Conservationist/GIS Technician
Kim Marshall, Communication Specialist
Bob Sherman, Resource Conservationist
Scott Stephens, District Administrator
Jason Vaughn, Resource Conservationist
Erin Wolfe, Outreach Coordinator
---
USDA Natural Resources Conservation Service Staff
Denise Shafer, District Conservationist
Chris Elliott, Soil Conservationist