Educate and Enlighten
The Delaware SWCD offers the following resources for educators to use.  To make a reservation, contact us.
Virtual:
Our partners at the Franklin SWCD compiled Online Interactive Resources (PDF)
(Interactive tools for assessment/evaluation, content-rich resources, and ideas for making learning more engaging).
Terrific Resources in Central Ohio (TREE), a consortium of agencies working together to promote environmental
information through presentations, programs, resources and events in Central Ohio, compiled TREE Outdoor and On-line Resource List (PDF).  These resources are great for teachers and parents alike!
Enviroscape:
This watershed model is an effective teaching tool that offers visual, hands-on learning for topics such as watersheds, erosion, stormwater runoff, and more.
Pollution prevention practices can be demonstrated.
The model can be correlated to Ohio's Learning Standards.
Learn more about the Enviroscape model here.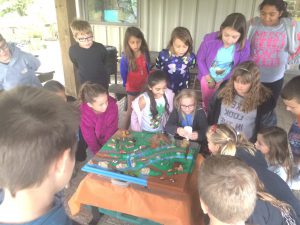 Soil Tunnel:
This tool helps teach about soil layers, drainage, organisms that live in the soil, soil variance among different land uses, and conservation.  The inflatable soil tunnel is very portable.  It includes a trailer for transport and storage.  Educational activities and talking points are also included.  Available to teachers free of charge, and to other organizations for a fee of $50/day, paid in advance.  Soil tunnel rental information for organizations outside of Delaware County can be discussed by calling (740) 368-1921.
To reserve, please contact us.
With information on the inside and outside of the Soil Tunnel, your visitors will have plenty of interesting details to explore!
Key Concepts the Soil Tunnel Covers:
Soil Layers

Soil Drainage

Soil Functions

Storm Water Pollution Prevention

Impacts of Land Use on Soil

Soil Organisms

Soil Conservation
Don't have space outside? Maybe it unexpectedtly rains on your event day. No problem. Use the Soil Tunnel inside as well.
Special Thanks
This tunnel and storage trailer were made possible through a grant received from the Ohio Environmental Education Fund.